Enjoy Your Engagement Pictures!
By Joe DeFabis, Photographer
Here are my best tips for taking really great engagement pictures.  I am so tired of seeing tips on the internet that cover the obvious, basic, and a repeat of basic content found everywhere that explains the obvious. To avoid this I would like to share with you some of the overlooked and less obvious aspects of an engagement session that can help you get amazing images during this special time in your lives. I am saddened when I see an engagement session that is less than professional, lacks emotion, technical detail and overall uninviting. Although opinionated, direct, and to the point, my tips are designed to give you the information needed that will insure you look amazing in your engagement portraits, have fun, and will have your friends talking, tweeting, sharing, and bragging about them for months to come.  Here are my tips for taking engagement pictures.
1. START WITH SOME GREAT BASIC HEAD SHOTS FOR YOUR ENGAGEMENT PICTURES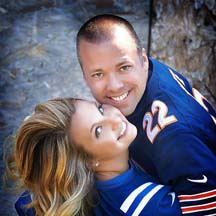 As much as you like stunning, artistic photography, you also need a few basic portraits for Mom, for the wedding website, or even for the invitations. Your photographer should be able to deliver solid, well exposed, elegantly posed images of you in a studio environment. Done correctly with the correct background and lighting, these simple shots can look amazing. A professional photographer will be able to do both for you.
2. HIRE A "PROFESSIONAL" PHOTOGRAPHER WHO HAS SAMPLES OF ENGAGEMENT PICTURES
Choosing an experienced, professional photographer for your engagement pictures is the single most important ingredient for creating images that will WOW your friends. An experienced photographer who has the knowledge and experience of working with couples will make the difference between an average shoot and one that will AMAZE. In addition to experience in posing your photographer should bring the proper lighting and selection of lenses for the shoot. This is an area where I see many photographers fall short. Your engagement photographer should do two basic things that most photographers do not go to the trouble to do (listed below). You should also insist on viewing at least a dozen images ( from different shoots ) of couples photography by the photographer.
A. Use external lighting ( off camera flash ) There is a huge difference between no flash or flash on a camera vs. an external soft box off the camera. Even in the best lighting conditions and off camera flash will add sparkle, snap and pop to your eyes.  These things will add that POP to your engagement pictures.
B. Carry an assortment of lenses for a variety ofBe sure your photographer has the proper equipment and does not have to rent or borrow items for your shoot. I have heard of several photographers who will rent or borrow lenses only to find out that the piece of equipment is already spoken for, and besides you are the one paying for the rental cost.
I once encountered a photographer a popular location for engagement pictures who was shooting in a less than ideal location and asked, " why don't you use any off camera lights" ? and his answer was, " That is too much trouble to bring along and it slows me down". My answer to that photographer was " Our clients pay us for amazing images, not to travel light"! Enough said for lazy photographers!
3. WARDROBE SELECTION AND PROPS
How you dress can make or break your engagement pictures.  Don't get into the habit of being too "coordinated"…but instead, coordinate colors keeping the location in mind. You may want a neutral color for the beach, bright colors for a graffiti wall, and a more dressy look for a garden area. Bring several outfits and ask the photographer to help you choose which outfits will look best in the photos. Women – bring flip flops! These sessions can be very long and may require lots of walking.
4. GO TO FEWER LOCATIONS FOR YOUR ENGAGEMENT PICTURES
You might want beach shots, city shots, night shots, and nature shots all in one session. While variety in background is important , it is also important to take in time considerations and not be rushed to get all of the locations in a single session. Taking your time and focusing on the right expressions, ideal backgrounds, and perfect settings in one or two locations creates a better product and a more enjoyable overall experience than cramming in multiple locations in a few hours. I prefer to limit the locations to 2.
5. POSED ENGAGEMENT PICTURES  ROCK 
Don't be afraid of posed shots! Photojournalism is very popular and definitely has its place in an engagement session. The problem is everyone is doing it ( sometimes because they don't know how to pose ). In many cases a photojournalistic shoot, the results are less than flattering and falls short on the intimacy, love and excitement an engagement portrait should convey. A professional photographer will provide a combination of photojournalistic images and artistic poses that show your love for each other without being too posed or staged. Because many couples are not sure what to do when the camera lens is in front of their faces, a professional photographer who will help you fine tune your natural pose can be quite effective. Don't be afraid to take posing direction from your photographer ( assuming they can pose ) I'm not talking about your Mommas poses!
6. ASK TO VIEW IMAGES DURING THE SHOOT
Your photographer should let you view some of the engagement pictures from your shoot. Most couples are not professional models and the visual communication can be a great help in developing the shot. You will see why the photographer tell you to tilt your head, bring one foot up on a toe, turn into the camera etc. You and your photographer should work as a team to get the desired results you will be proud of.
7. FEWER SHOTS
As the old saying goes… "Less is more". Taking your time to create thought-out, creative, high-quality images produces a better overall product than spamming you with hundreds of average shots that can be taken with any camera. I personally choose to work by location and once we have a good location I start with the background / foreground selection, take the time to meter the light, set up an off camera light and explain to the couple what I envision, then work with them on improving their pose, expression to get an amazing image. Our average session is about 60-80 shots and we will show our couples about 20 finished images ( read more on viewing session ).
8. KEEP IN MIND THE END PRODUCT FOR YOUR ENGAGEMENT PICTURES
What will your engagement portraits be used for? Save the dates, album prints, designer cubes, or even a sign in book, the location, style and wardrobe should be taken into consideration for all of these option. A portrait for your wedding program cover may want to be more traditional and an image that will be displayed in your home may be more towards the fashion or contemporary mood.  Using your engagement pictures to design your wedding invitations and save the dates is the best way to personalize your stationery.
9.  ENGAGEMENT PICTURES CAN BE TAKEN ANY MONTH OF THE YEAR
The winter months can make for some unique engagement pictures.  Take advantage of the winter months to create images that will be unique to your personality, the result will be unique engagement pictures that will surely reflect your individuality.