Drone Wedding Photography in Indianapolis by wedding photographer Joe DeFabis
Drone wedding photography will soon be something that many people participate in for their weddings. Drones are special bot-like devices that photographers use to take videos and stills.  Here are a few tips when considering Drone wedding photography;
Indianapolis Drone Wedding Photography: Things To Consider
1. The first thing you need to consider about drone wedding photography is that they can make a lot of noise. Their engines and propellers sometimes make winding sounds that you may find to be disturbing. You will have to ask the photographer to keep the drone grounded and stable so that it doesn't steal one of your precious moments. The last thing you would want is for a drone to start making a whole lot of noise during one of the most crucial parts of your wedding.
2. Drone assistance does not come cheap. If you are thinking about hiring a photographer like Lovely Valentine, you should expect to pay more than $200 for the service that you are getting ready to get. That particular company does offer the wedding photography by itself, so you would need to purchase an entire package if you are going to work with them. Consider your budget before you even think about doing anything even remotely close to ordering drone-assisted photography. If you have the funds, then more power to you. By all means, order some drone work.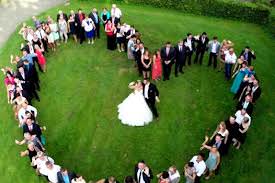 3. Your photographer will not be able to take the drone to every venue, so you have to consider some factors and ask questions beforehand. Some property owners are not drone friendly at all and will deny all access to drones. Some venues are simply not practical for drones. Examples of such venues are ones with overhead wires, telephone poles, tented areas and indoor venues. Such places should all be on your no-drone list because they do not make sense from a practical aspect. Your selection must be smart and practical otherwise you will waste your money. You could end up with a huge loss Even if the photographer decides to bring the drone despite the risks.
4. You will need to select a time to take the photo shoot when the drone would be less of a spectacle. Cocktail hour is probably the best time to have them done.
5.Be mindful of whether there will be any rain. You cannot place the drones in water so you must ensure that you are not trying to use it on a rainy day. You will destroy the drone and ruin any chances you have of having some awesome pictures taken.
6.Do not try to use the drones if the winds are going to be high. You will not be able to get a good aerial view, and the drone may suffer damages, as well. Only use the drone if the weather is going to be calm and clear.
7. You never know what is going to happen when you bring a robot to a wedding. For that reason, you will want to make sure that you pick up some insurance to cover yourself in case the drone hurts someone or gets knocked about. You never know, and insurance is cheap.
8. You may need a permit to use the drone in your area. Check with the town of the venue before you make arrangements to bring one to the wedding.
9. Hire a person who has experience with drones. If you hire an inexperienced person, you will be able to tell by the quality of the pictures that drone takes.
10. Try to get the most breathtaking picture you can possibly get. You only have one shot to do it in.
DeFabis Photography offers amazing drone wedding photography for your wedding. Call today and get estimates for pictures taken with our 4K camera unit and our 3DR Solo Drone.