Discover The Most Unique Wedding Album Available Anywhere
"Fold Out" Wedding Album Introduced by Indiana Photographer Joseph DeFabis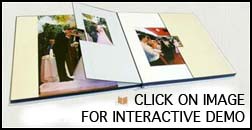 It has been said that out of all the aspects of a wedding to splurge on, you should splurge on your photographer and your wedding album.  After all, when the vows have been said, the rings are in place, all of the food has been enjoyed, and the honeymoon is complete, your wedding album will be all that remains to remember you special day.  The pictures taken on your happy day should accurately display many parts of your wedding and reception, such as the love you and your spouse share, the mood for the day, your friends and family and their participation, and all the small details in between.  That is why it is so important to have a good photographer on your special day and to invest in a wedding album to tell the complete story of the day.
Introducing The Interactive "Fold Out" Wedding Album
Indianapolis wedding photogrpaher Joseph DeFabis knows how much you will forever treasure your wedding photography.  With this in mind, they are proud to announce that they are offering new and innovative way to remember your wedding day: "The Fold Out Album".  In fact, DeFabis Photography is the only photographer in the state of Indiana to offer the "Fold Out Album".  The "Fold Out Album" is a designer wedding book and a creative and enhanced method of remembering your wedding day.  Each page is created by hand, making it a one-of-a-kind piece of art.
An Interactive Way To View Your Photographs
If you are looking for a unique wedding album and a interactive way to remember your day, look no further than DeFabis Photography and the "Fold Out" album by La-Vie.  The "Fold Out" album originated in Japan approximately 16 years ago and have made their way here to Indiana due to the efforts of Joe DeFabis, one of Indiana's premiere wedding photographers.  Each album is handmade, and therefore, one of a kind.  These designer wedding albums feature fold out page displays, which offer an interactive and unique way to remember and commemorate your beloved day.  They also;
• Have won praise from photographers all over the globe
• Preserve and enhance your wedding day photos
• Utilize the highest quality of acid-free materials available
• Are professionally designed and hand-crafted
• Are a cherished piece of art
• Customizable
• Will be enjoyed for many years to come
Several Styles and Color For Any Budget
La-Vie wedding albums offer several different styles and options to fit any taste, style, and budget.  There are over eight album styles to choose from.  Each album can hold anywhere between 50 and 150 images, using between 24 and 60 pages.  You can choose the size and color of your album, as well as print and lamination.  You even have the option of leather covers and leather holders with some album styles and designs.  Albums are available as small as 4.8×7.7, and as big as 15.8×14.4 and 13×11.6.  Anywhere between one and five images in a variety of layouts can be used on the front cover, with optional print layouts available as well.  You also have the option of creating and customizing your own digital cover layout.  Five different fonts are available for use on the cover of the album, the spine, the first page and the last few pages.
"Fold Out" Albums Now Available Now At DeFabis Photography
DeFabis Photography is ready to pair with you in making your special day one to be remembered.  They will take beautiful and unique photos of your wedding day and events in order to make a personalized "Fold Out" album from your photographs.  Contact DeFabis Photography today to ensure you will be able to personalize and preserve your wedding with the most unique album for decades to come.